Are you standing at the checkout in a branch of the Douglas perfumery chain? And maybe you want to save a lot of money when buying (depending on the product)? Then you need to say the following magic phrase: "I would like to pay the online price". Sounds like satire, but it's real.
Because some chains offer one and the same product at different prices: To our knowledge, Douglas, Media Markt and Saturn are examples of this. There, certain products have a higher store price and a cheaper online shop price.
Test in a Douglas branch
We did the test in a Douglas branch in Augsburg. There we lined up at the branch checkout with a perfume. The cashier asked 131 euros for the perfume. But we had researched that the exact same perfume with the same quantity in Douglas' online shop only costs 83 euros: 1 Million Elixir 100ml.
So we said that according to the website, Douglas had this perfume on sale for 83 euros. To which the saleswoman replied: "If you want the online price, you just have to say so at the checkout."
So we played the game and said, "I'd like the online prize."
The saleswoman replied unperturbed: "Then make 83 euros please". The following receipt proves our success: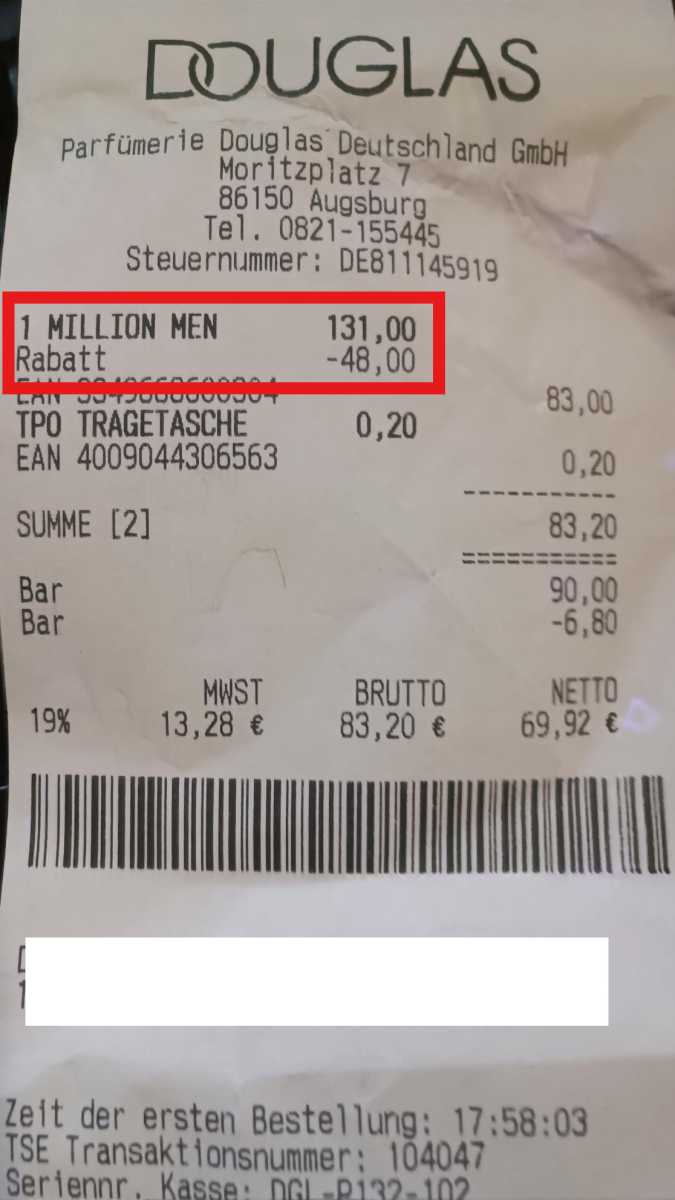 pk
It works with these chains
As far as we know, this approach is practiced not only by Douglas but also by the electronics stores Media Markt and Saturn. You should therefore definitely research the online price before paying, ideally with your smartphone, so that you can show the price immediately at the checkout if there are any discrepancies. Important: There is by no means a cheaper online price for all products.
Some of the customers are excluded
This discount practice is not new. There were reports of this as early as 2019. The problem is that when you are stressed about shopping, you often forget to ask at the checkout for a possibly cheaper online price. In addition, this approach disadvantages people without the Internet or without a smartphone. That's not even that few.
Telekom sales partner wants to sell fiber optic connection to 83-year-old man (without Internet or mail).