Bandai Namco Entertainment has announced the end of service for the smartphone rhythm game "Idolmaster SideM GROWING STARS" on the YouTube channel "Idolmaster Channel".
"Cysta" will start service on October 6, 2021. The story of a player who became a new producer at the idol agency "315 Production" and "for some reason" walked with 49 idols who made their debut was gaining popularity.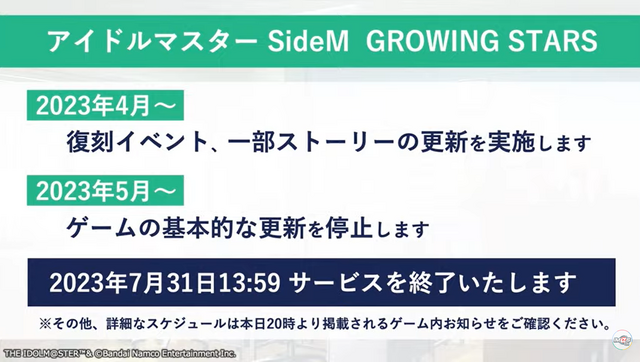 The future roadmap was revealed in the program delivered from 19:00 on April 4th. From April 2023, we will start downsizing operations, and in May we will finish basic updates such as events and stories. The service will end at 13:59 on July 31st.
In addition, during the reduced operation period, we plan to reprint two types of early release events, and plan to update the stories of idols who will have birthdays in April. Also, although there is no event update from May to the end of July, you can log in and play the game. We are currently coordinating with various places so that we can provide as much as possible to the end of the development of the game.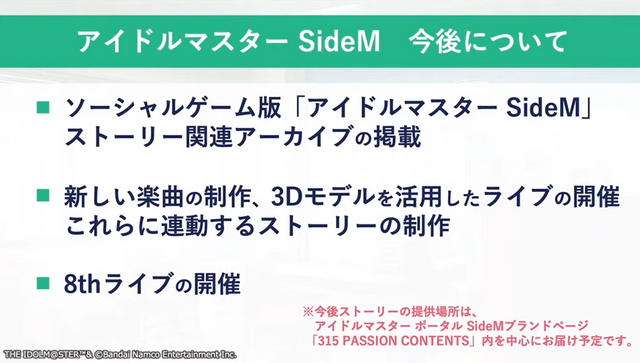 In addition, it is clear that the brand "Idolmaster SideM" itself will continue. Although we are moving away from social games, we will continue to deliver idols in other ways, such as producing new songs and holding live performances using 3D models.
At the end of the distribution, Mr. Mitsumoto, the game manager of the "Idolmaster" series, apologized for the termination of "Cysta" service, saying that it was "my responsibility". Regarding the future, he commented, "While using this experience as a source of inspiration, all the staff will do their best, even if it is a little bit, and I will try to make a more positive report."