One more month before the release of Spider-Man: No Way Home, Sony Pictures has released a new poster ahead of its release in the US on December 17, 2021. No Way Home will again star Tom Holland as Peter Parker aka Spider-Man, Zendaya as MJ, Benedict Cumberbatch as Doctor Strange, Marisa Tomei as Aunt May Parker, Jon Favreau as Harold "Happy" Hogan, Benedict Wong as Wong, Alfred Molina as Doc Ock, Jamie Foxx as Electro, and Jacob Batalon as Ned Leeds.
The first poster released by Sony Pictures (08/11) does not give us a lot of information connecting it to other MCU characters because there is an important figure missing. Sony pictures finally presented Doctor Strange in its new poster, which was released on November 15. The poster shows Spider-Man and Doctor Strange facing Doc Ock's hand and Electro's electric, and the Green Goblin is seen behind them.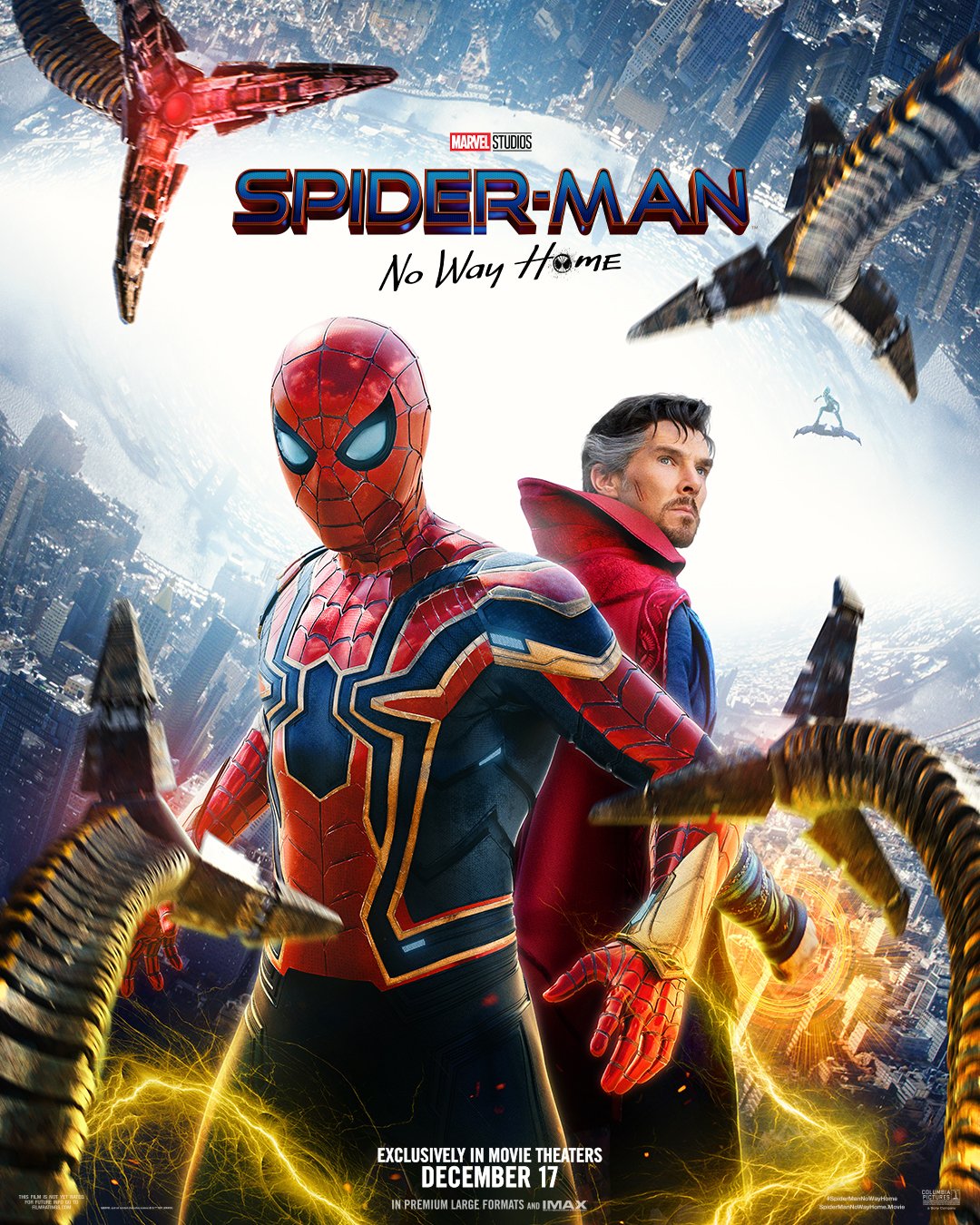 The poster was also released a day before the second Spider-Man: No Way Home trailer. The release of this poster piqued the curiosity of fans.
In the first trailer, which was released a few months ago, it was confirmed that Doctor Strange would be a mentor to Peter Parker after the death of Tony Stark. The trailer also shows the multiverse concept shown through the appearance of the old Spider-Man villains from the previous Sony franchise: Dr. Ock, Green Goblin, Sandman, to Electro.
What about the official trailer?
When the official trailer was released, the video managed to break the record for the most views in 24 hours. The record was previously held by the trailer for Avengers: Endgame.
Furthermore, the second trailer, released on November 17, went viral. In just two hours, the film's trailer has been watched more than 7.9 million times on Youtube. The second trailer confirms the 5 enemies that Peter Parker must face in this film. They are Green Goblin, Doctor Octopus, Electro, Lizard, and Sandman.
Spider-Man: No Way Home is the third film in the Spiderman franchise that began with Spider-Man: Homecoming and followed Spider-Man: Far From Home.
Extending the story from the previous chapter, Peter Parker now asks Doctor Strange for help regarding his identity and ends up messing up the multiverse.
Tom Holland previously said Spider-Man: No Way Home would be the darkest movie of the trilogy, compared to its two predecessors.
Until now, fans still hope that not only one Spider-Man will appear in No Way Home. The appearance of Peter Parker's version of Tobey Maguire and Andrew Garfield is still unknown.
Sony Pictures did not give any leaks about this. Andrew Garfield, the actor of The Amazing Spider-Man, previously even openly denied. Fans, on the other hand, still have their own imagination through a series of fanart.