This year's Game Awards is.. Interesting, to say the least. The fighting game community is losing their minds over Sifu, a non-fighting game being included in the category, and two big fandoms are going toe-to-toe for the Player's Voice award.
The contenders? God of War: Ragnarok, which follows Kratos and his son after the events of the critically-acclaimed 2018 game, Elden Ring, a souls-like game that won the hearts of many, Genshin Impact, Mihoyo's open-world mobile-PC game from two years back, and Sonic Frontiers, the latest entry to the franchise which sufficiently surpassed people's expectations.
You would think that Elden Ring or GOW: Ragnarok would've taken the votes; the former being an unexpectedly popular souls-like game, presumably the first to become mainstream, and God of War for its story and graphics. We thought so too, but the blue hedgehog was topping the votes for a good amount, leaving both aforementioned titles behind. It wasn't until a post in r/Genshin_Impact addressed the situation that people started voting for GI. While Frontiers won previous rounds, Mihoyo's fans made a comeback, momentarily. Both fandoms are currently contesting the votes, and there is some suspicion that bots are involved, though this remains unconfirmed.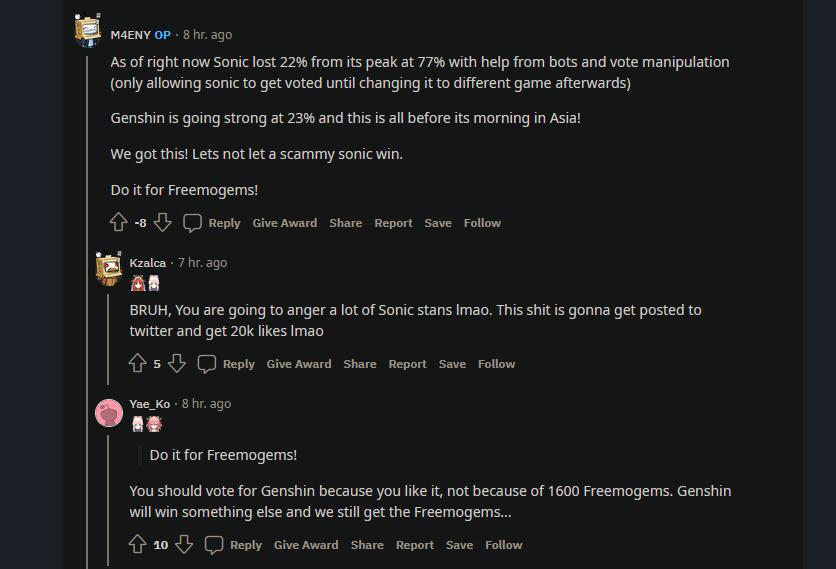 The battle for the award has not been clean, however. Though both fandoms share a considerable amount of toxicity, several fans have allegedly drawn offensive remarks to the other fandom, all while China is mourning the passing of late leader Jiang Zemin. Genshin's chinese servers are also closing down for a day to pay respects. Opinions state that Genshin's fans are driven to win for chances of getting ingame currency. Some controversy has also sparked from the inclusion of the mobile game, as it was the only game to not be released this year, though it did recently gain a massive update.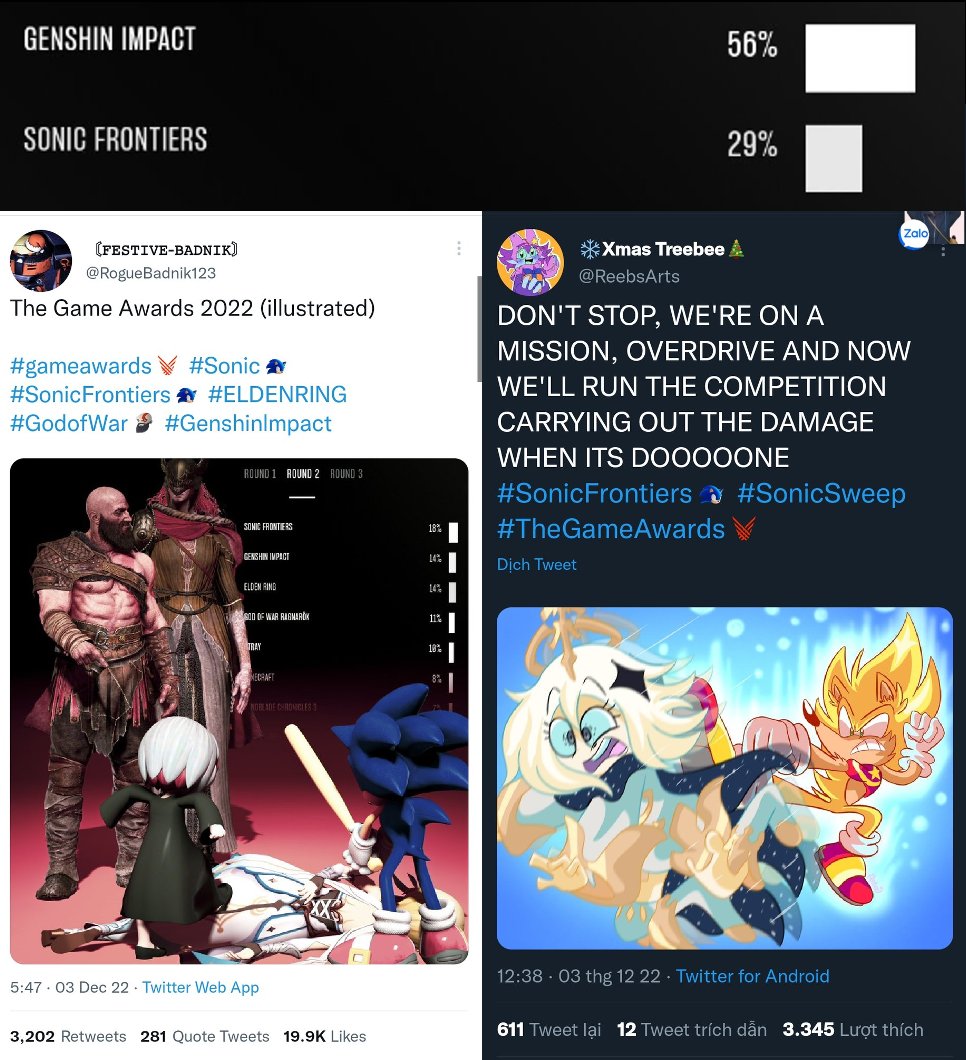 Regardless, this isn't a fight for Game of the Year, yet it gains much more exposure than that of the main category. While it is safe to say that GOW and Elden Ring votes are outnumbered, fans are redirecting their votes to either of the games, with most encouraging to vote for Sonic. We have no idea who'll come out on top; but the fight is surely exciting.
<
p dir="ltr">(Images sourced from Game Awards and various Twitter accounts)