Its become clear to the sims community that we are getting Werewolves. While The Sims 4 creators have been teasing it for days, with codded messages and hints hidden in other content trailers, a recent leak has finally confirmed what we all already knew. And only a few hours ago, The Sims 4 team released confirmation.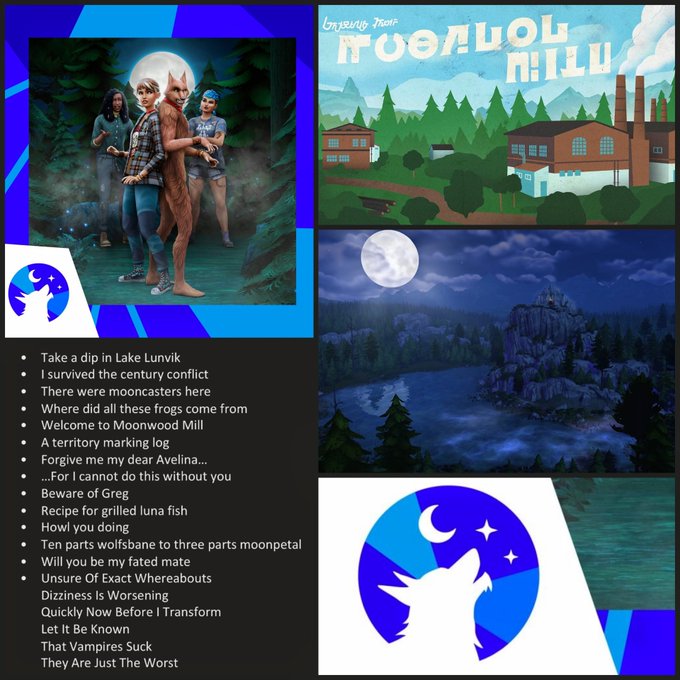 Included in the above photo is the artwork for the pack, a look at what we can assume is the new world, and a list of the coded hints that simers have been solving on Twitter over the lead up to the pack announcement.
With the leak forcing an early confirmation on the pack, it is a little disappointing that the time and effort that the creators went to, to make this an interactive experience for the community, has been cut short. However, this now gives the community time to come to terms with the werewolf form, which many are calling unsettling, and reminiscent of Furries. Nothing can be as bad as The Sims 3 Werewolves, however.
With a new world on the way, the new artwork shows some of the other additions we will soon be getting, including hair, clothes, scars, and, of course, a wolf form. Though there is more to come, this is a very exciting start. For more information, keep your eyes peeled, because the trailer drops on June 2nd, with a release date, confirmed then.
Exciting as this pack is, it begs the question of whether The Sims 4 community will soon receive even more updates on The Sims 3 packs. Like Fairies, for instance. The Sims 4 team is very close-lipped about upcoming packs, however, so we will be waiting a while for any hints about what will come next.