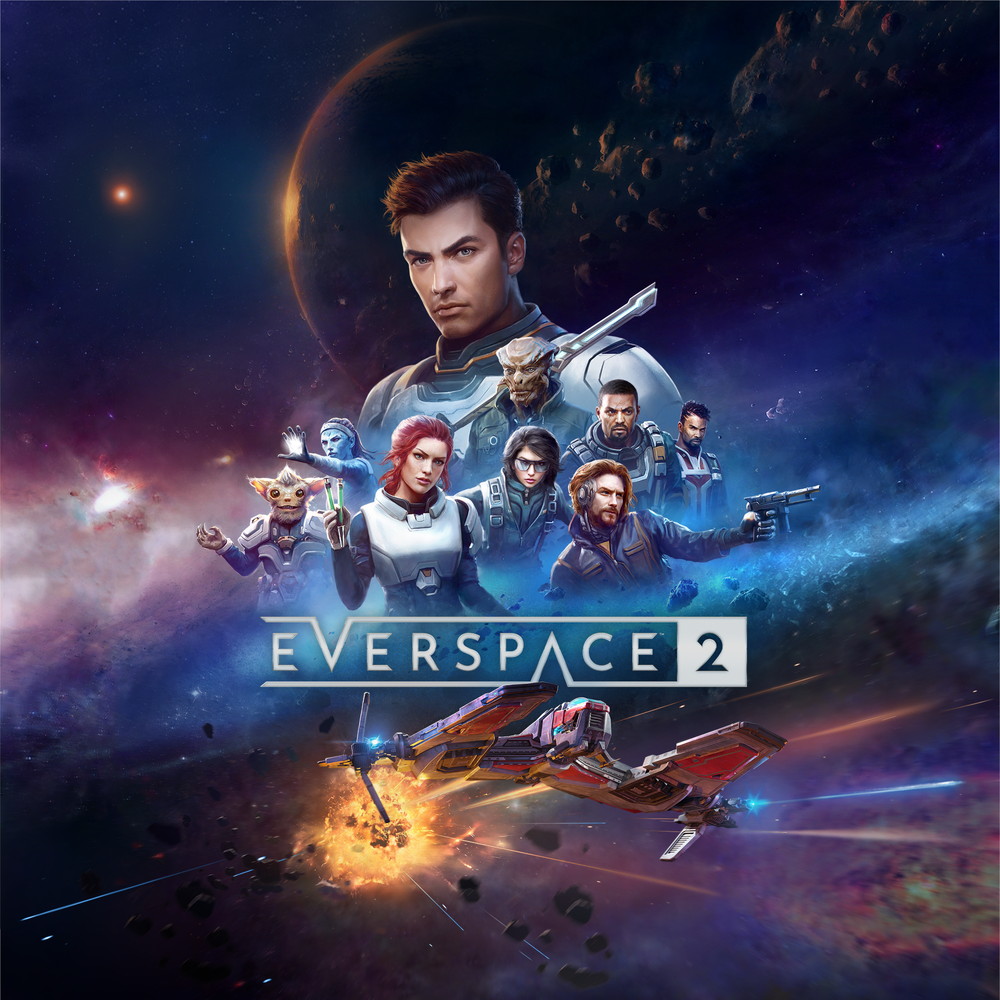 Hamburg independent developer ROCKFISH Games officially released the open world space shooting action RPG "EVERSPACE 2" on April 7th at 2:00 am (Japan time). It will be sold for 5900 yen on Steam, GOG.com and Microsoft Store. We offer a 10% discount for the first week after release. Releases on PlayStation 5 and Xbox Series X|S are planned for later this summer.
■ "EVERSPACE 2"
In EVERSPACE 2, you play as Adam, a successful clone pilot who escapes the conflict in Cluster34's DMZ and seeks freedom. Enemy encounters and brutal challenges stand in the way of the player as he seeks the best loot. An exciting sci-fi adventure set in a war-torn star system, featuring huge areas filled with hand-crafted secrets, puzzles and dangers. Danger lurks in every corner of space, and pilots must level up, craft items, and acquire better gear to survive at the edge of space.
In addition to the five expansive star systems introduced in Early Access, EVERSPACE 2 now lets you explore a sixth star system, Khione, featuring massive space battles with epic cinematic scenes and a thrilling final boss. Enjoy a whole new level of challenge with the final chapter of the campaign featuring warfare. Pilots will not only encounter new Tier 4 starships, gameplay mechanics and side content, but will also gain new legendary loot available in certain side missions and Ancient Rifts endgame activities. . Additionally, version 1.0 adds quality of life improvements, a dedicated commodity trading feature, ship customization options, new player feats, and a Nightmare difficulty unlocked after completing the campaign on any difficulty. .
After six major content updates over the course of over two years of Early Access development, EVERSPACE 2 features an exciting 30-hour single-player campaign, plus hours of side missions, jobs, distress calls, and more. It will be released with lots of additional location challenges, puzzles and other activities. In total, the game features over four hours of dialogue and two hours of cinematics and cutscenes, fully dubbed in English and German. Additionally, the game is currently localized in 13 languages: Japanese, English, Brazilian Portuguese, Czech, French, German, Italian, Korean, Polish, Russian, Simplified and Traditional Chinese, and Spanish. It is
■ Message from ROCKFISH Games CEO Michael Schade
"I am very proud of the ROCKFISH team. The members of the team have put their heart and soul into this project over the years. With mechanics and amazing storytelling, huge hand-crafted orbits and planetary areas, and vast underground facilities, you can immediately see how much passion and dedication went into making this game. EVERSPACE™ 2 was arguably the most ambitious project for our team, and our journey is not over yet.What stories do you have to tell in the EVERSPACE universe? There's still more to come, but for now we're excited to bring you the final chapter and ultimate experience with EVERSPACE™ 2."
■ Future plans
With the release of the PC version, EVERSPACE 2 is compatible with Windows and Steam Decks. Linux and MacOS support, as well as optimizations for Steam Decks, will be implemented after release. Everspace 2 is playable via Proton, though the team is working to improve performance on Linux. Release on the latest generation of Xbox and PlayStation consoles is scheduled for summer 2023. The digital soundtrack and artbook will be available for purchase later this year.
ROCKFISH Games' EVERSPACE 2 isn't over yet. In addition to bringing the game to consoles, a major free update is planned for later this year that will add new features, rich ship customization options, and voice-over languages. The team at ROCKFISH Games also plans to launch the first major paid add-on in mid-2024, allowing you to continue your EVERSPACE 2 adventure with new story and gameplay features.
■ Main features of EVERSPACE 2
– Over 30 hours of main campaign story, fully dubbed in English and German
– Over 90 hours of exploration, including side missions, puzzles, secrets and location challenges
– 6 explorable, semi-open systems
– Over 100 unique handcrafted areas
– 9 player ship subclasses in 4 layers.Each class has its own feats and ultimate abilities
– Meet 7 different factions.Multiple defensive units, each with their own distinct enemy ships and unique abilities
・ Recruit 7 friends.Each with unique upgradable feats
– Tons of spaceship customization options and unlockable traffic
Collectable blueprints that unlock crafting and demolition options
– Hundreds of equipable weapons and gear
– Ancient Rifts endgame content lets you take luck on your side as you face challenging foes and unlock powerful legendary weapons and equipment with unique traits
Work for a wide variety of glorious factions that unlock valuable reputation bonuses
・Compatible with PC HOTAS/HOSAS controllers and fully customizable