Hashtag #Booktok has been all over TikTok recently. This trend is followed by some books that readers read during the pandemic or just their own personal favourite. Of course, some readers have the same taste that leads into a particular book and they get attached to the characters in the book. 
They make videos giving the vibe of the characters or how the reader imagines the characters would look. Some videos even show the imaginary world a fantasy book would look like, which is totally eye-catching and makes the viewer invested and eager to read the book. This hashtag itself has already reached 28,0 Billion videos. 
These are several books from the hashtag #Booktok on TikTok you might like to give a try.
It Ends With Us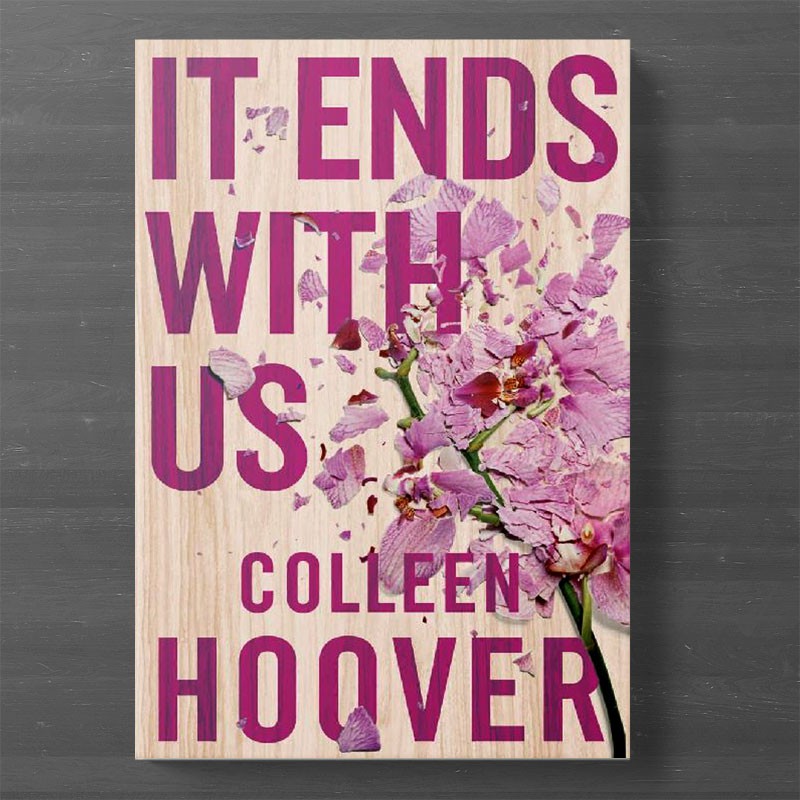 Image source: shopee.co.id
Colleen Hoover, a New York Times Bestselling Author, never fails to create sobs and smiles off of her reader with a 4.43 rating on Goodreads. This book will get you on an emotional roller coaster when you'll be laughing and crying.
Lily, a girl who always worked so hard for the life that she wanted, finally got to move to Boston to start her new business, to open a florist. When she met the stubborn, assertive Ryle, she felt a spark between them, especially when he was in scrubs, which is Lily's favourite thing. Ryle has a "no dating" rule and that rule is demolished by the presence of Lily. She can't help but wonder what made him have that rule in the first place.
As the ups and downs of their relationship occur, she meets her first love and the bridge to her past life, Atlas Corrigan. When Atlas was gone and suddenly appear when she was already in a ticking bomb relationship with Ryle, that was when the relationship starts to shake.
Ugly Love
Image source: pinterest.com
Still written by the same author, Ugly Love is the talk among readers for its overwhelming storyline.
Hearts get infiltrated.
Promises get broken.
Rules get shattered.


Love gets ugly.
Tate Collins found a guy hammered outside her brother's apartment. It was her brother's best friend, Miles Archer. Considering how they met, Tate wouldn't consider them friends but they couldn't resist each other so they let their desires out in the open. Tate doesn't have time for love and Miles doesn't want love. It was a perfect set-up. So Miles set up two rules which are "don't ask about the past" and "don't expect future". They think they can handle it but of course, they can't and that is when things get complicated.
You've Reached Sam
Image source: nationworldnews.com
This book is only published in early November 2021 but already attracts readers with its romantic sad story. A Vietnamese writer, Dustin Thao who is based in New York, was debuting his first fiction novel which he wrote during a hard time in his life, he said in his interview with Goodreads. 
This book is about a 17 years old girl named Julie that had to face her boyfriend's death. Heartbroken, Julie skips his funeral, throws out his things, and tries everything to forget him and the tragic way he died. But a message Sam left behind in her yearbook forces back the memories. Desperate to hear his voice one more time, Julie calls Sam's cell phone just to listen to his voicemail. Sam picks up the phone. She takes it as a chance to say goodbye that she didn't get to do. The connection is temporary. But hearing Sam's voice makes her fall for him all over again, and with each call, it becomes harder to let him go.
Punk 57
Image source: pinterest.com
From her book Bully to Birthday Girl, most of them have already appeared in #Booktok but Punk 57 was way more trending. People were starting to make edits about Misha, the male lead. The plot is also unique.
The story begins when Misha and Ryen become penpals in fifth grade. They kept on sending each other letters. They don't exchange numbers, social media and each other's pictures. They kept sending each other letters until Misha realised that Ryen wasn't like how he thought she was. Misha ended up in Ryen's school with a fake name, Masen. They started to cross paths. Ryen couldn't control her urge to get close to Misha so was he. He knew Ryen is the one that has been sending him letters but Ryen didn't. 
The Love Hypothesis
Image source: reddit.com
The Love Hypothesis is written by Ali Hazelwood. A writer who writes contemporary romcom novels about women in STEM and academia. Even though this book was released in September 2021, this book has become a New York Times Bestseller Book.  
Olive Smith, graduated from Stanford University. She got into a situation where she had to convince her best friend, Ahn, that she is happily in a relationship so she kissed the closest person to her side, Dr Adam Carlsen. The broodiest, most (supposedly) hateful professor-slash-advisor on campus. To her surprise, Adam turned out to back up her lies. They went on a public date and Olivia enjoyed the majority of their time together. 
People We Meet on A Vacation
Image source: bookcity.pl
Emily Henry, a New York Bestselling Author of Beach Read, published yet again another masterpiece. This contains a story of two best friends who became lovers. Here is the synopsis of the book.
Two best friends. Ten summer trips. One last chance to fall in love.
Poppy and Alex. Alex and Poppy. They have nothing in common. She's a wild child; he wears khakis. She has an insatiable wanderlust; he prefers to stay home with a book. And somehow, ever since a fateful car shares home from college many years ago, they are the very best of friends. For most of the year they live far apart—she's in New York City, and he's in their small hometown—but every summer, for a decade, they have taken one glorious week of vacation together.
Until two years ago, when they ruined everything. They haven't spoken since.
Poppy has everything she should want, but she's stuck in a rut. When someone asks when she was last truly happy, she knows, without a doubt, it was on that ill-fated, final trip with Alex. And so, she decides to convince her best friend to take one more vacation together—lay everything on the table, make it alright. Miraculously, he agrees.
Now she has a week to fix everything. If only she can get around the one big truth that has always stood quietly in the middle of their seemingly perfect relationship. What could possibly go wrong?
The Spanish Love Deception
Image source: goodreads.com
This book is Viral on Tiktok also under the hashtag #Booktok because of readers' obsession over the character Aaron Blackford and how his character is attractive to female readers.
The journey begins when Catalina needs a date for her sister's wedding in Spain. She may or may not lie by saying she will bring her "fake" American boyfriend who was nonexistent.  Aaron, who she somehow hates, suddenly comes up to her and offers to be her date to the wedding in exchange for her to be his date to an event. 
The Seven Husbands of Evelyn Hugo
Image source: filmdaily.co
Even though this book has been published and sold in many versions, this book still catches the attention of new readers. 
This book is about Evelyn Hugo, a big Hollywood star who chose an unknown magazine reporter, Monique Grant, to write her biography. Her life behind all her glamorous and scandalous approaches has finally been revealed. She told about her career from the beginning along with her seven marriages.