Impertigore (Perempuan Tanah Jahannam)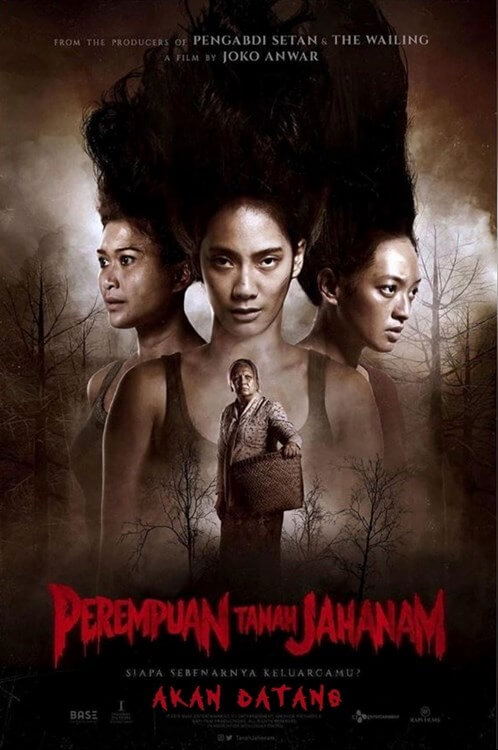 Genre: Thriller, horror, psychological
Impertigore (Perempuan Tanah Jahanam) is an Indonesian movie starring with Tara Basro, Marissa Anita, Ario Bayu, and Faradina Mufti. The film was an international co-production between Rapi Films and Base Entertainment from Indonesia,  CJ Entertainment from South Korea, and Ivanhoe Pictures from the US. The movie was directed and written by Joko Anwar. His other works of art include Satan's Slave (2017), and Gundala (2019).
Maya (Tara Basro) is a woman living in a city with some difficulties in her life, including financial problems. One day, she found a key to live a wealthy life, an old photo of her and her family, and decided to head back to her hometown, Harjosari, and her friend Dini. However, upon arriving there, she was not welcomed by the townspeople. She soon learned the horrifying truth of her family and why the townspeople disliked her.
The story begins with Maya working in a toll booth in the middle of the night. She had a call with her friend, Dini (Marissa Anita), who also worked in a tollbooth until she noticed an old sedan car that she had seen stopping at her for the past week. The man from the car approached her and asked her some questions, and left. Noticing that the man had left, she felt relieved and looked outside the tollbooth window. She was startled because the old sedan car was still there, and the man approached her again, this time with a machete. Noticing this, Maya quickly left her booth. Soon after that, the man caught her and slashed open her scar while talking to Maya and saying that it was her family's fault. Maya, who was confused, was almost killed by the man. By the time he lifts the machete, the security whom Dini called shot him in the chest. The real story then begins.
This is one of the best horror movies I have ever seen. I like the cinematic and how the flow of the movie. In my opinion, this movie is more of a psychological thriller. This movie does not offer the "ghost", and it does not have that many jumpscares like a typical horror movie, so it is quite safe for people who get scared easily and for people who are scared of ghosts to watch. The characters would sometimes talk in Javanese, so it might be hard to understand. It also has some parts that show too much blood, so I would not suggest people who get sick easily to watch. The ending of the movie does not seem like it was a rush. Overall, I enjoyed this movie. I would recommend watching this movie for people who are into psychological horror.