The Harry Potter franchise is not only a delight to watch or read, but also seemed a delight to star in and work on. With the reunion movie coming out not that long ago, and the Hogwarts Legacy game coming out soon, it's time for a little trip down memory lane to check out where we began.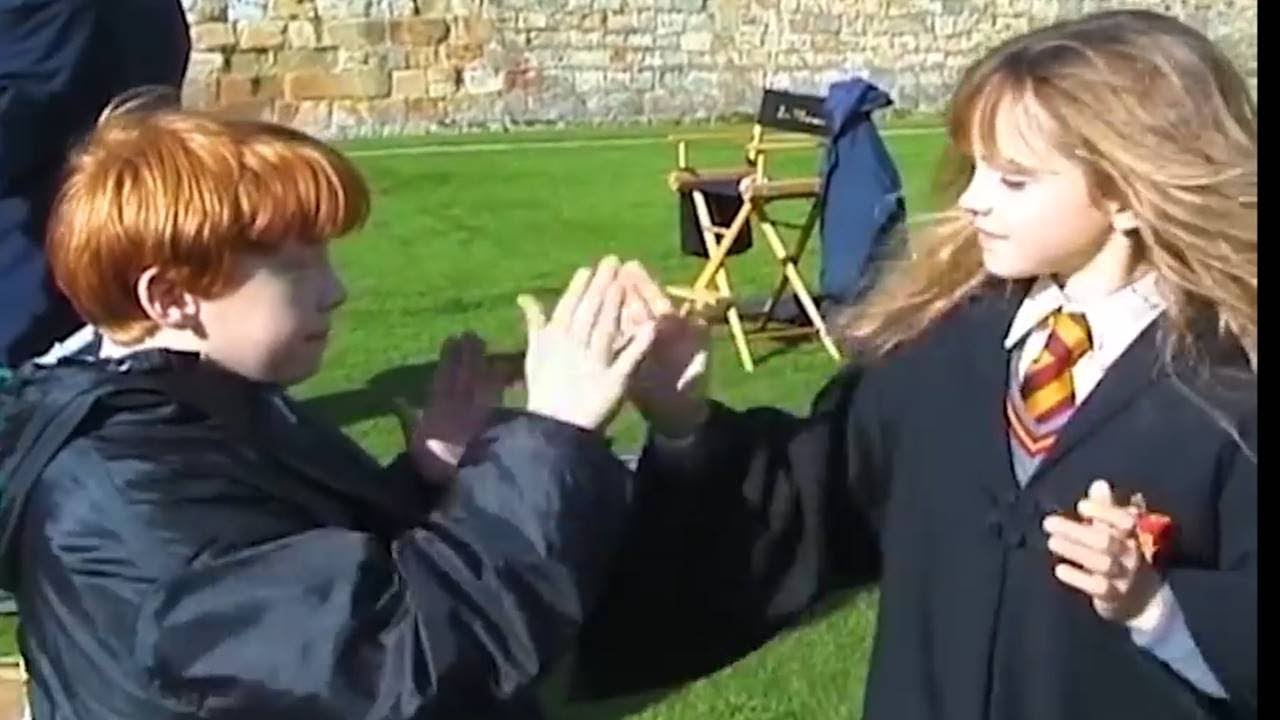 So tiny. Emma Watson and Rupert Grint try to keep themselves entertained between scenes in the Philosopher's Stone.
And Ruperts not the only one who Emma beats in hand games, challenging everyone's favourite bouncing ferret, and coming out on top.
Daniel Radcliffe tries his hand at being on the other side of the camera in between filming scenes for Hagrid's Care of Magical Creatures class.
Hermione Granger spends an awful lot of time in the library, and luckily her magic helps her put away the massive tomes she chooses for her light reading.
Besties Seamus and Dean goof off at the Yule Ball while Hermione watches on in amusement.
Though not every witch or wizard can see the thestrals, they are quite cute nonetheless, and the smiles on the cast's faces as they get ready for their horseless carriage trip to the castle compounds that opinion.
Pictures were taken just before the tragedy. The actors get ready for the scene we all want to forget and fans get ready to say goodbye to Gary Oldman and Sirius Black in one (sad) swoop.
Whether your broom is real or attached to a cord that keeps it in the air, Quidditch is great fun for all involved. But Harry Potter never lets a thing like fear slow him down, so winning against the Gryffindor Seeker is going to be next to impossible. Unless your father has brought your team a bunch of the newest fastest brooms on the market.
One of the many Harry's, Rupert Grint seems very chipper as Ron gets ready to risk his life for his best friend up against the Death Eaters in the Deathly Hallows Part One.
With the Death Eaters closing in around them, Ginny and Harry get ready to fight to the death with their opposition. In real life, it looks cold and damp in the fields behind the burrow. Let's hope none of the nasty gnomes that live around the burrow decided to pick a fight at the very inopportune moment.
Before a take, Rupert Grint takes a little rest as the Golden Trio hideout in the Forest of Dean from the dangerous Death Eaters.
The climax approaches as Death Eaters and the Order of the phoenix make the last stand for the Wizarding World, going head to head with Lord Voldemort and his Death Eaters.