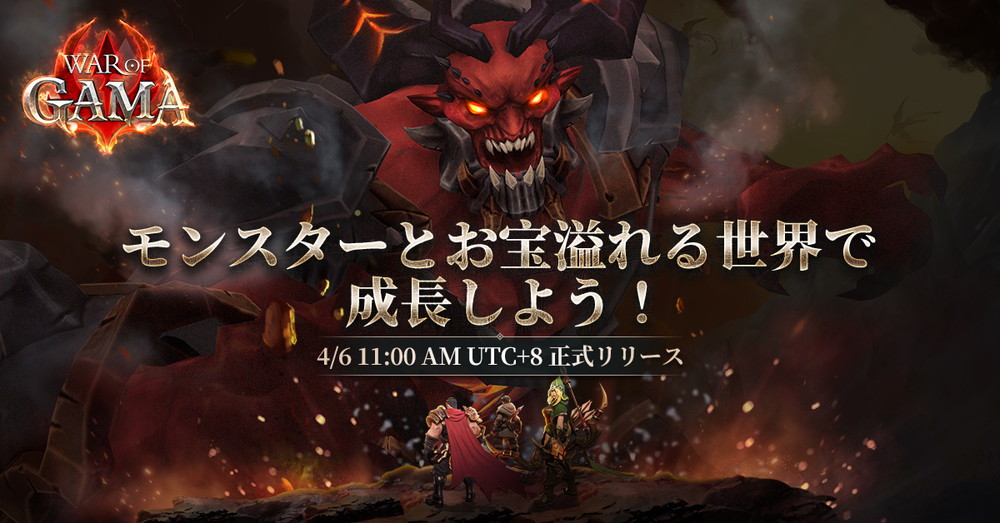 The world's first offline auto-play MMORPG mobile game "War of GAMA" was officially released worldwide today at 11:00 UTC+8 on April 6th. In addition to enjoying battles and equipment enhancements on various maps, we have introduced many new systems such as offline auto battles and specialization systems to acquire status bonuses. In addition to common diamonds and gold, a completely new token "Kingdom Coin" and a special item "Time Gem" will appear, which will be the key to Fight & Earn in this work. Furthermore, the collection system is also one of the major features of this work. To commemorate the official worldwide release, we are planning to hold many opening events. Pre-registered players will receive gorgeous in-game items worth 500 USD!
Unique specialization and token system
"War of GAMA" has elements not found in previous games, such as offline autoplay play and "specialization" that grants random status bonuses to players. In addition, we have introduced a completely new token "Kingdom Coin" that is different from the conventional in-game currency such as diamonds and gold. This token can be used to "specialize" the item as described above. It can also be used to enhance equipment and weapons of stable value or higher, and can also be used to create or synthesize morph cards or summoned spirits of super rare quality or higher. In addition, Kingdom Coins must be consumed when auctioning items of 10,000 diamonds or more. Kingdom Coin is essential if players want to become stronger and have higher combat power in the world of "War of GAMA".
Kingdom Coin can be earned by defeating monsters, defeating bosses, and killing other players in the game. In addition, although the maximum amount that can be obtained every day is fixed, you can use the special item "Time Gem" to increase the maximum amount of Kingdom Coins that can be obtained and increase the drop rate. If you have different quality morph cards in your account, the number of "time gems" you can use will be different. If you have a Legendary Morph Card, you can use 3 Time Gems per day and increase your Kingdom Coin drop rate by 500%. Epic quality and super rare quality can use 2 and 1 time gems respectively, and after using it, you can greatly increase the limit of Kingdom Coin acquisition. This will allow you to further explosively improve your combat power.
Collect collections and increase your fighting power
"War of GAMA" has its own collection system, and status bonuses can be unlocked by registering morph cards and summoned spirits obtained for the first time. You can also get permanent stat bonuses by registering certain combinations and duplicate equipment items in your collection. The collection system has over 100 combinations, no need to throw away duplicate equipment items. The more collections you collect, the more your fighting power will increase, so let's actively register!
Many events will be held to commemorate the official release
"War of GAMA" officially started service today (4/6). All players who pre-order will receive a gorgeous in-game item pack worth up to $500. In addition, to celebrate the global release, numerous events will be held in the game, and super rare morph cards, summoned spirits, and equipment materials will be distributed as rewards. In addition, if you join a clan and rank in the top 10 of the ranking, everyone in the clan main bar will receive various rewards such as epic crafting books and epic lucky boxes. Additionally, the first player to obtain an Epic Morph Card and the first player to obtain an Epic Summoned Spirit will be rewarded with an Epic Crafting Tome.
The market sells a lot of great item packs, such as selectable rare super rare morph cards, summoned spirits and weapon and armor packs, support packs for each rank, gold packs, and more. In addition, the management team will provide players with battle support items every day!
For other deals and event information, please visit the official War of GAMA website and official fan page! !