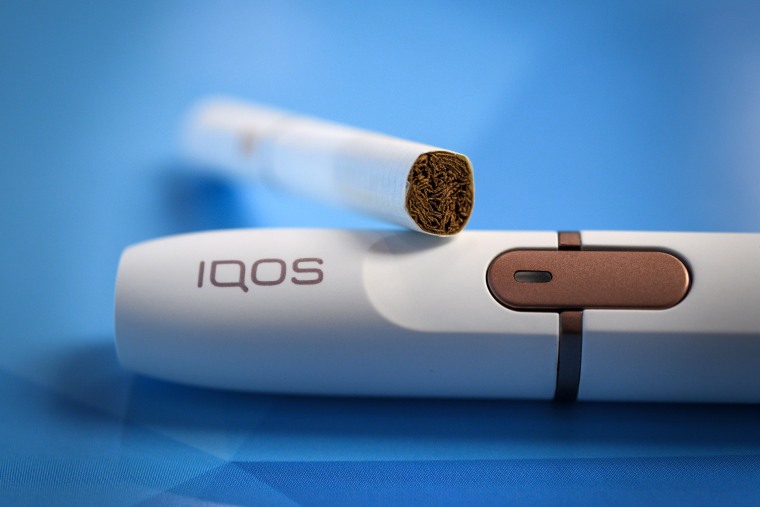 Philip Morris seeks to replace cigarettes with devices that heat tobacco instead of burning them by pioneering the iQOS.
Image source: Fabrice Coffrini/AFP via Getty Images
Manufacturers of cigarettes in the United States are less likely than those in the United Kingdom to give up producing them in favor of newer technologies on tobacco amid tightening restrictions on the use of nicotine-laden products, according to a recent report by NBC News.
Jacek Olczak, chief executive officer of Philip Morris International or PMI, which makes Marlboro, made headlines last week when he said that it decided to stop selling cigarettes in Britain by 2030 to comply with British laws, telling British tabloid The Mail on Sunday, "I want to allow this company to leave smoking behind… I think in the U.K., 10 years from now maximum, you can completely solve the problem of smoking".
Olczak was not the first corporate officer to announce the decision to phase out cigarettes, but Altria, the holding company of Philip Morris USA, has more reservations about it than PMI, from which it sprang in 2008, does.
Its spokesperson George Parman told NBC News in an e-mail, "At Altria, we're focused on moving beyond smoking and our 2030 Vision to responsibly lead the transition of adult smokers to non-combustible products… We have the ability to make significant progress on harm reduction and public health," because of its smoke-free products that include the IQOS tobacco heater that the Food and Drug Administration approved within limits in early July to hit the markets as a modified-risk tobacco product that limits exposure of anyone to harmful substances.
Altria holds the exclusive license for the device for sale in the United States by Philip Morris USA that makes Marlboro for American consumers.
Both PMI and Altria seek to accomplish it within 10 years as part of their vision, but PMUSA wants more leeway while PMI opts for a strict phaseout.
Experts say that the difference between the strategies of two companies reflects cultural, political, and entrepreneurial divergence.
Kathleen Hoke, a professor of law and Director for the Center for Tobacco Regulation at the School of Law of the University of Maryland, told NBC News that American smokers tend to want to remain free to smoke more than smokers from other countries do.
People have been smoking cigarettes to suggest independence since 1929 when "father of public relations" Edward Burney paid young women to march during the Easter Sunday Parade down Broadway in New York City and smoke their "Torches of Freedom!" to defy taboos against female smokers and public smoking at that time.
58-year-old product apparel manager and former smoker Monica Beaky of New York City told NBC News of the feeling she had when she started smoking at 13, "I felt invincible, ridiculously invincible… I wanted to be grown up… it gave me that bad-girl feel", but she switched to vaping after a doctor diagnosed her with a cancerous growth on her tongue at age 49.
Beaky then began to teach customers part time in a vaping shop, finding young men and older women easier to persuade than older men that regard vaping as non-masculine.
Centers for Disease Control and Prevention released a data that shows the rise of sales of electronic cigarettes by 122 per cent from 2014 to 2020, and the Federal Trade Commission released a data that shows the decline of sales of cigarettes by at least 20 per cent during that time, keeping the trend of decline.