A Dessert Cocktail Classic
Happy Brandy Alexander Day!
The cocktail known as the Brandy Alexander is a brandy-based (of course) dessert cocktail containing cognac, crème de cacao, and cream. It is based on an earlier cocktail known simple as an Alexander, which itself may contain either gin or brandy.
There are many rumours about the origin of the Brandy Alexander. Some say it was created at the time of royal wedding in 1922, other sources say it was named after tsar Alexander II of Russia. Yet more namesakes include drama critic Alexander Woollcott, as well as a New York City bartender named Troy Alexander. Musician John Lennon once said that a Brandy Alexander tasted "like milkshakes", and other performers over the years have immortalized the drink, in literature, television and film.
Fun fact: Adding ice cream to the cocktail is another popular variation; this recipe is known as a "Frozen Brandy Alexander."
Recipe
Here is a simple, easy-to-make recipe for a Brandy Alexander.
Ingredients:
1 ½ ounces of cognac.
An ounce of dark crème de cacao.
1 ounce of cream.
Garnish: grated nutmeg.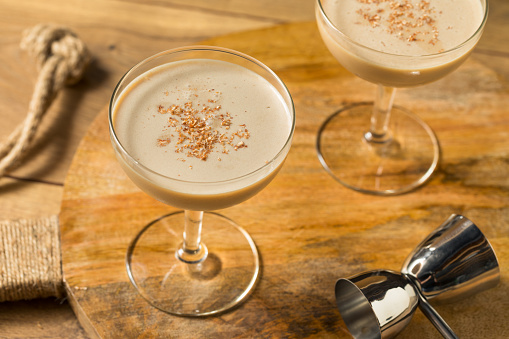 Steps:
Add the cognac, dark crème de cacao, and cream into a shaker with ice; shake until well-chilled.
Strain into either a chilled cocktail glass or a coupe glass.
Garnish with freshly grated nutmeg.
And to make things interesting, here is the recipe for a Frozen Brandy Alexander:
1 and a half ounces of cognac or brandy.
2 cups of vanilla ice cream.
Garnish: Nutmeg or Mint Leaves.
Steps:
Add the ice cream, crème de cacao, and brandy to a blender; blend all mixtures until it turns to smooth.
Pour the mix into a glass and garnish with nutmeg and a mint leaf.